Nevrova Elena Leonidovna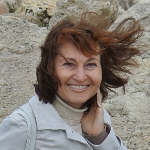 Affiliation: A. O. Kovalevsky Institute of Biology of the Southern Seas of RAS
Position, academic degree, rank: Leading Researcher, D. Sc.
Address: 2 Nakhimov ave., Sevastopol, 299011, Russian Federation
E-mail: el_nevrova@mail.ru
Profiles:
Research area:
taxonomy, ecology, and taxonomical diversity of the Black Sea benthic diatom taxocenes (Bacillariophyta);
structural organization of benthic diatoms taxocenes from biotopes subjected to various anthropogenic loads;
comparative assessment of taxonomical diversity of benthic diatom taxocenes in different areas of the Black Sea;
revelation reaction of discriminator and indicator species on joint influence of key environmental factors.
Keywords:
benthic diatoms, Bacillariophyta, taxonomical diversity, anthropogenic load, and structure of taxocene.
Membership in international and Russian publishing associations, scientific communities, and other organizations:
Member of Editorial Board – scientific journal "Voprosy sovremennoi al'gologii";
Member – International Society for Diatom Research (since 2006);
Member – Moscow Society of Naturalists (since 2015);
Member – Russian Botanical Society (since 2015);
Member – Russian Geographical Society (since 2017).
References:
Nevrova E. L. Diversity and Structure of Benthic Diatom Taxocenes (Bacillariophyta) of the Black Sea / Ed. A. V. Gaevskaya ; A. O. Kovalevsky Institute of Biology of the Southern Seas of RAS. – Sevastopol : IBSS, 2022. – 329 p.; 122 ill., 55 tabl. URL: https://repository.marine-research.org/handle/299011/12192
Nevrova E. L., Petrov A. N. Growth dynamics of the benthic diatom Ardissonea crystallina (C. Agardh) Grunow, 1880 (Bacillariophyta) under copper ions effect. Morskoj biologicheskij zhurnal, 2022, vol. 7, no. 4, pp. 31–45. URL: https://marine-biology.ru/mbj/article/view/367
Petrov A. N., Nevrova E. L. Estimation of cell distribution heterogeneity at toxicological experiments with clonal cultures of benthic diatoms. Morskoj biologicheskij zhurnal, 2020, vol. 5, no. 2, pp. 76–87. https://doi.org/10.21072/mbj.2020.05.2.07
Nevrova E. L., Petrov A. N. Assessment of benthic diatoms taxonomic diversity at coastal biotopes with different anthropogenic impact (Crimea, the Black Sea). Turkish Journal of Botany, 2019, vol. 43, no. 5, pp. 608–618. https://doi.org/10.3906/bot-1903-43
Nevrova E. L., Petrov A. N. Benthic diatoms species richness at Dvuyakornaya Bay and other coastal sites of Crimea (the Black Sea) under various environments. Mediterranean Marine Science, 2019, vol. 20, no. 3, pp. 506–520. https://doi.org/10.12681/mms.20319
Nevrova E., Petrov A. Bathymetric distribution of mass benthic diatom species (Bacillariophyta) at the Black Sea. Nova Hedwigia, Beihefte. 2018. Beih. 147 : Taxonomy, Systematics and Biogeography of Fossil and Recent Algae, pp. 247–260. https://doi.org/10.1127/nova-suppl/2018/020
Romanova D. Yu., Petrov A. N., Nevrova E. L. Copper sulphate impact on growth and cell morphology of clonal strains of four benthic diatom species (Bacillariophyta) from the Black Sea. Morskoj biologicheskij zhurnal, 2017, vol. 2, no. 3, pp. 53–67. http://doi.org/10.21072/mbj.2017.02.3.05